What differences do you notice between American and Canadian attitudes, media and culture?
Olivia Cheng: America's population is ten times Canada's so the variety blows my mind. The diversity in opinions, backgrounds and belief systems can be polarizing in good ways and bad. There's so much going on in America that cutting through the noise makes certain elements of media bigger and flashier than what I'm used to.
American pop culture revolves around the personal lives of celebrities; what's most challenging about being out there?
OC: Literally the public exposure: It took time to get used to the idea that God-knows-how-many strangers have seen me naked. I turned off social media notifications for eighteen months because I was too freaked out to interact. I'm usually super open, so the most challenging part is how vulnerable I feel and not letting it shut me down.
Has a lesson from an early age stuck with you?
OC: I don't remember how old I was when my aunt told me about these men who'd regularly harass my grandparents at the restaurant they opened after immigrating to Edmonton. I was so upset when I heard the story. The part that soothed me was about a bus driver who'd stop in to check on them. I wish I could thank him; the impact of his kind­ness has stuck with me.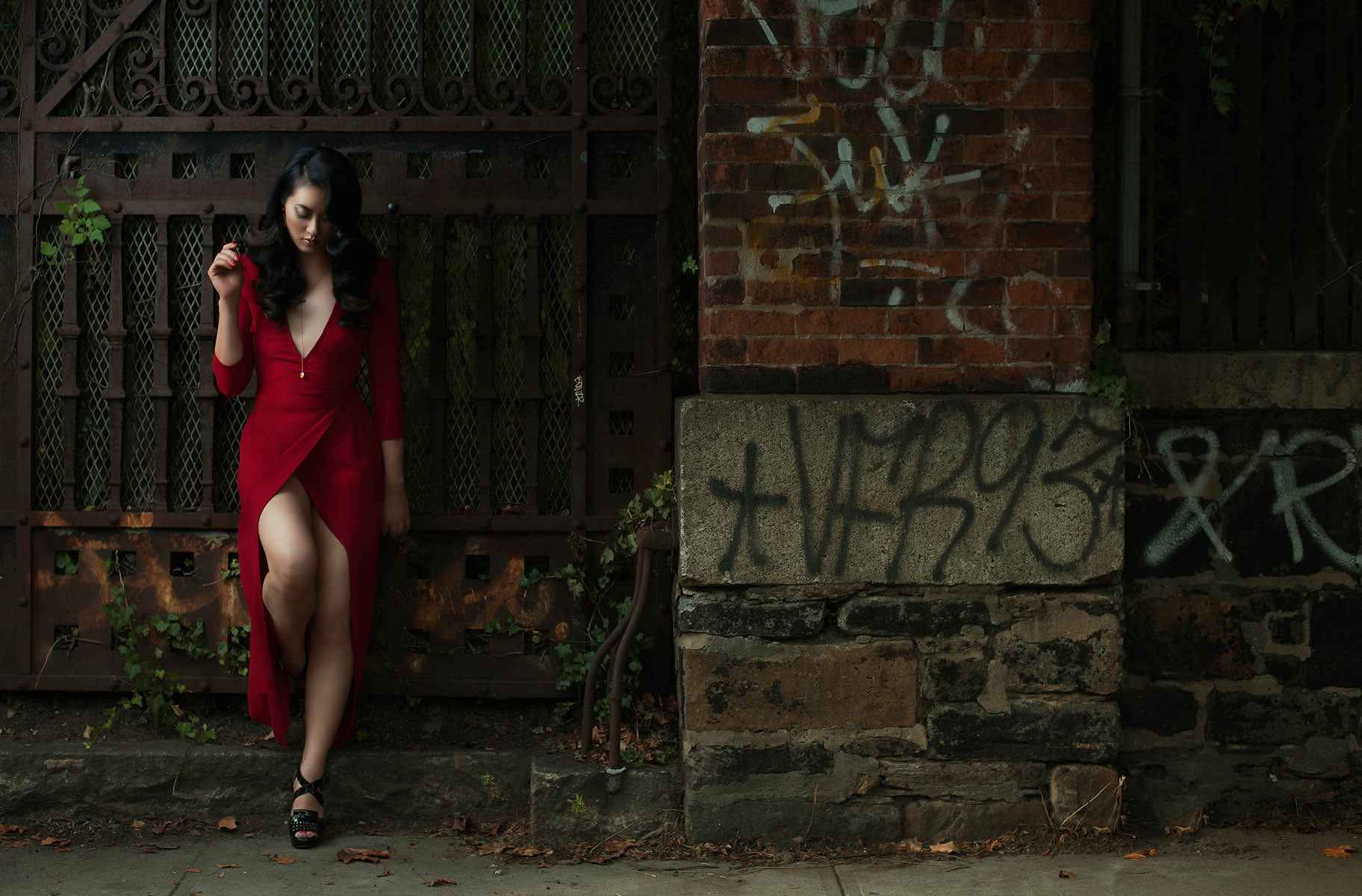 Earrings Laruicci / Necklace Qiyada / Dress American Apparel / Shoes Michael Kors
Do you attribute your success to changes in your thought process?
OC: I've been fortunate to chase something I love and let that love lead me. That doesn't mean it's been easy. Any personal journey entails admitting you have a dream, and it's scary because it feels out of reach. The fears never stop, because once I work through one, I inevitably hit another; I've come to grudgingly accept that it's a sign of growth.
My biggest blocks are in my thought process. Fear affects what I do or don't do. So this journey has been filled with a lot of mindful investment to change self-sabotaging habits. It's tested me, and I wouldn't have achieved what I have without shifting and challenging my way of thinking. It's critical to root out limiting beliefs because – what's that Carl Jung saying? "Until you make the unconscious conscious, it will direct your life and you will call it fate."
Believing you have to be perfect is exhausting and impossible. Enjoy your playful side, because your imperfections actually make you more relatable. Your anger is there for a reason, but don't act on it without pausing to think through it.
What advice would you give your teenaged self?
OC: "Dear Teenage Me: Believing you have to be perfect is exhausting and impossible. Enjoy your playful side, because your imperfections actually make you more relatable. Your anger is there for a reason, but don't act on it without pausing to think through it. Oh, and stop falling for pretty boys who say slick things; they're the worst for breaking your heart. Watch how they walk before you trust how they talk.
You play a warrior on "Marco Polo"; what advice would you give to those struggling to find the warrior within themselves?
OC: A true warrior demonstrates courage and character in the face of adversity, inspires by example and does the right thing even if it's the harder thing to do. I certainly fall short of that, but I imagine a true warrior is boss at it. Maybe a good next step is turning to a trusted friend for help to get unstuck, or praying for guidance and being open to recognizing help when it arrives. I don't think anyone becomes a true warrior on their own. Asking for help is a sign of great strength.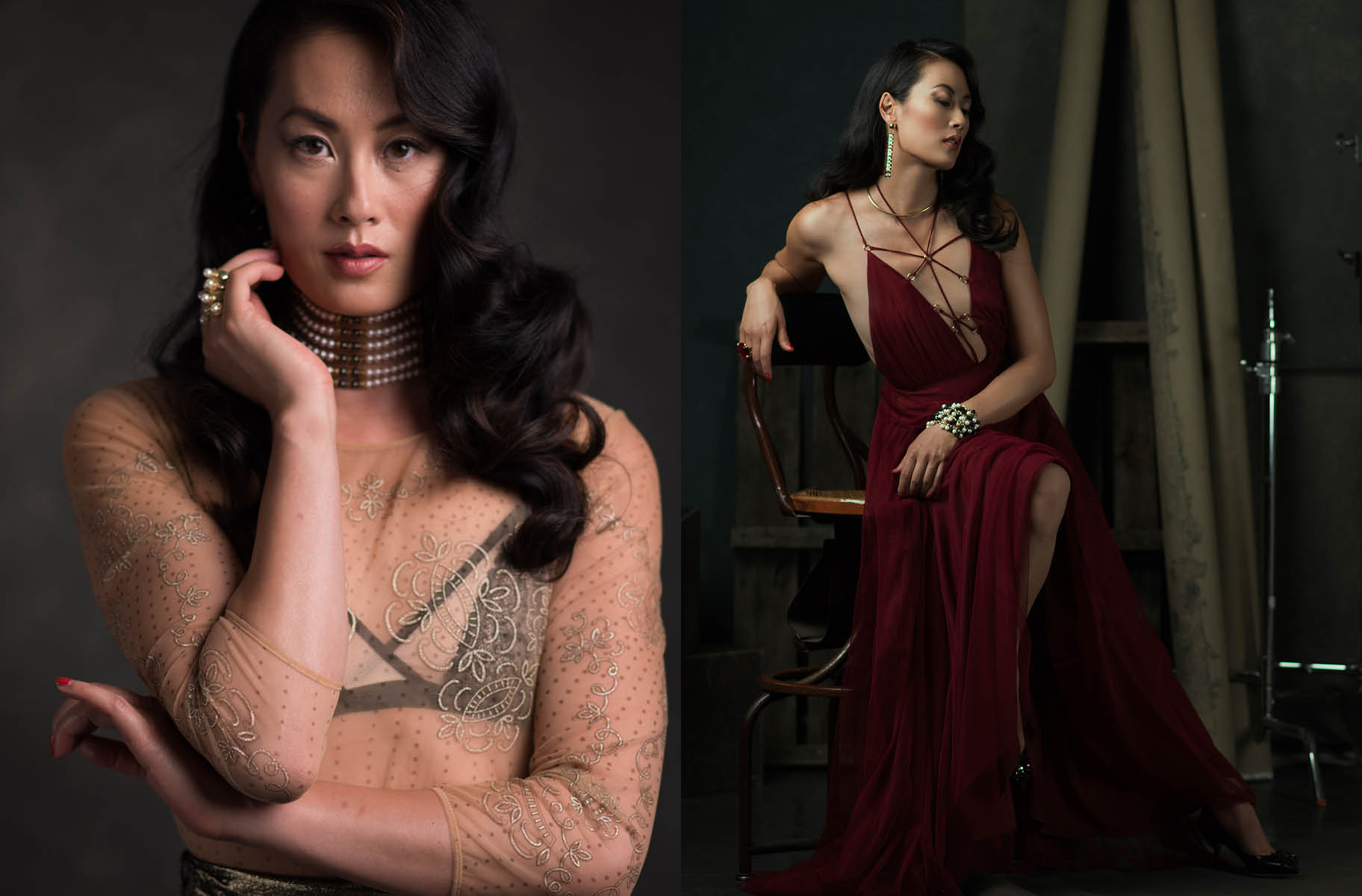 Dress Topshop / Earrings Laruicci / Bracelet Haus of Topper / Necklace Qiyada / Shoes Dolce & Gabbana
How do you prepare for such a physically and emotionally demanding role?
OC: I train hard so I have the stamina and skill set to sell those fight sequences. Emotionally, I read and watch things that explore the dark side of humanity. I hate anything violent or unjust, but I do it to get into Mei Lin's head; she's hardened in a way I'm not, because she's survived so much violence and learned to turn the tables.
Mei Lin's taught me to trust my instincts. Sometimes I give people too much credit, because I don't want to believe they're doing the terrible thing I see them doing. Mei Lin can't afford to do that, because the stakes are life or death if she ignores a red flag about someone's character.
What went into the creation of your costumes?
OC: I would stand like a mannequin as incredibly talented designers created outfits on me. I'd watch their vision come to life with each ribbon, jewel and detail they'd tailor right on the spot. Our teams were led by Academy Award winner Tim Yip and then by Jo Korer. All the actors saw their characters' looks evolve; everything got more fitted, and Jo found some innovative ways to play up each actor's aesthetic strengths. My costumes deviated from a traditional Chinese look as Mei Lin moved through the Mongol court. I also liked the grittier, no-makeup look in season two.
What would you consider your personal style?
OC: I love fashion that inspires you to try something new; it's an immediate way to say who you are and what mood you're in. In one day I can look low-key and tomboy-ish but can also get super feminine and glam. I just want to be comfortable. Nothing kills style like feeling self-conscious because you can't move properly or the outfit doesn't feel authentic.
Would you consider modeling?
OC: Fashion is geared toward perfection and aesthetic illusion. Models are the face of that fantasy and have to convey a visual concept and emotion in one snapshot. That's not easy! I would never call myself a model, but the exposure from "Marco Polo" has put me into modeling situations, and it's been a steep learning curve. I used to panic but have come to love it for the challenge. It's a form of acting to be the canvas for an artist's vision of you.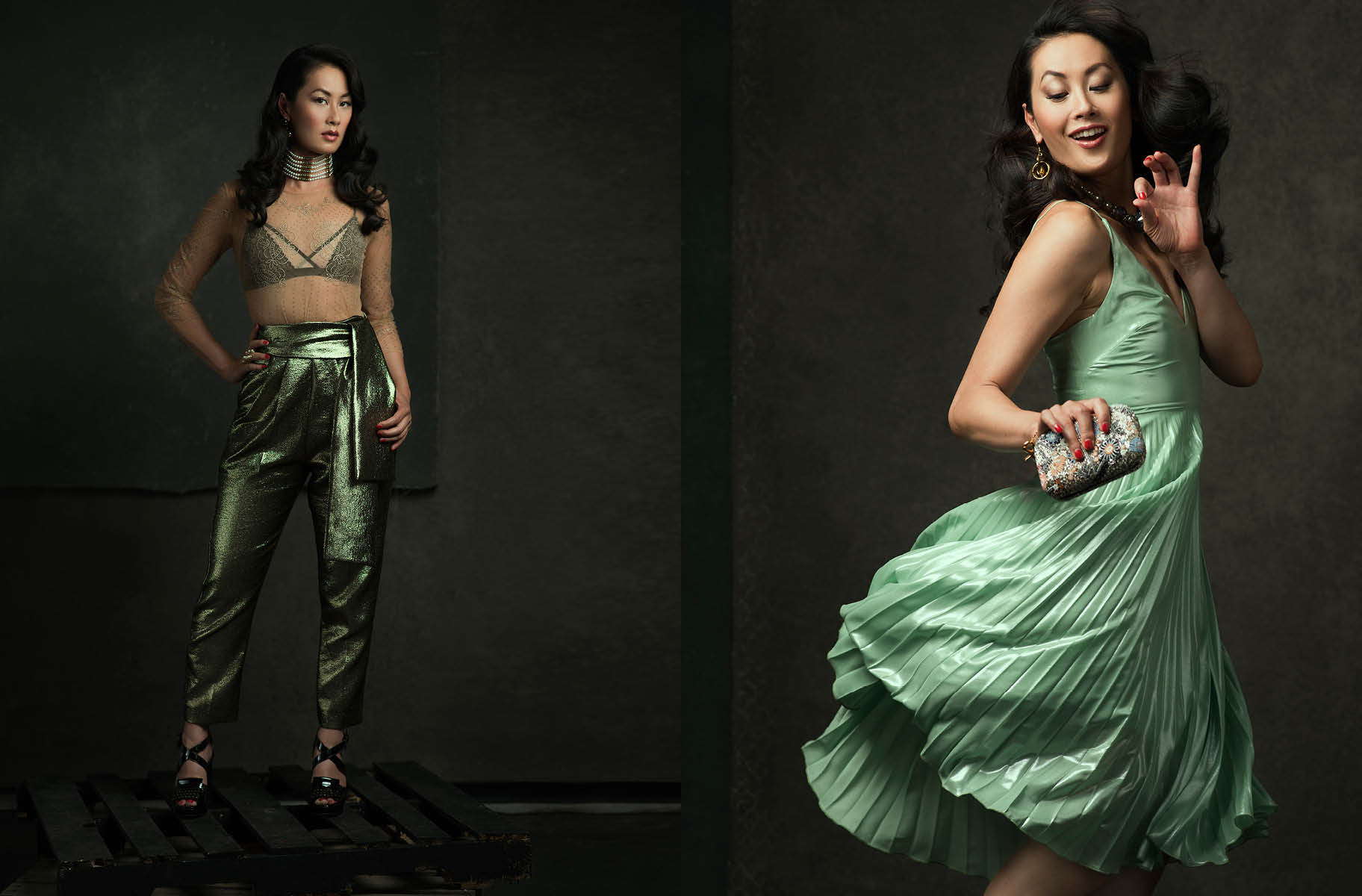 left: Earrings & Ring Qiyada / Necklace Haus of Topper / Bra Kensie / Bodysuit Ritratti / Pants Topshop / Shoes Michael Kors
right: Dress Topshop / Bag Parfois / Earrings & Bracelet Laruicci / Necklace Haus of Topper
Do you aspire to produce or direct?
OC: Yes, please. I've produced live events and directed friends for fun so I know how to talk to actors. I love connecting people. I think about how to tell a story visually, and my media background has given me a skill set to meet seemingly impossible deadlines. I would love to expand as a storyteller.
What's your obsession and how do you indulge it?
OC: Personal growth and spirituality. I'm a seeker. I'm always reading or checking Google things I don't understand about myself or other people. I listen to spiritual thought leaders and spend a lot of time and money on intensives and workshops. I want the world to be a better place, and I think change has to start within ourselves.
I'm also getting a bit obsessed with social justice and civil rights issues. I was just in Mexico City, because I sponsored a screening of a Mark Vicente documentary called "Encender el Corazón," which examines the class war fueling the violence in Mexico. I have a Mexican friend who had his ears and a finger cut off in a kidnapping for ransom, and that's how I started learning about what's happening there.
I also admire a lot of black entertainers, and when they speak about violence and oppression, I try to learn. I just got back from Atlanta where I attended Harry Belafonte's inaugural "Many Rivers to Cross" social justice music and art festival. I only saw three other Asian people there, and I was a little self-conscious but I think it's important to be humble and listen. Plus, I don't think anyone can watch Ava DuVernay's documentary "13th" and not be deeply moved.
This issue is called DREAMS; what is yours? 
OC: Simple things like finding a Pogo ball or buying a pinball machine to relive my childhood. Then universal things like finding someone to share life and have crazy adventures with. I also dream about material things like having a beautiful home with plenty of guest rooms for friends and family; I'd hang my art and my kids' art all over the walls, mixed with pieces commissioned from friends. It'd be a dream to have a studio space like Diego Rivera's that I just saw in Mexico City; it had perfect lighting. I'd make art, have private dance classes and pull out chairs for my writer friends to host script readings as we develop material.
What challenges do you face as you pursue this dream?
OC: A lot of internal ones: doubt, loneliness, uncertainty. It has to do with fears, struggles and sacrifice. I see peers who've pursued steady careers and have consistent schedules. They're flush with money and have big homes and beautiful families, and I can't help comparing my life to theirs. Society tells me what milestones I should have hit by now, and it's hard sticking to the road less travelled.
But then I remember the time I hit rock bottom and quit acting class to start handing out résumés for a nine-to-five job. I was so sad. I was bombing job interviews. Then I thought about my three-month-old nephew: I didn't want him to hear about the time I came close to living out my dream and quit. I decided it was more important for him to hear about the time I found a way to persevere. I was free-falling but called everyone I knew in town and was super-honest, telling them I needed jobs that would give me flexibility to audition and stay in class. People came through. I hopped from one contract to another, stayed in class, and by the end of the year, something started clicking in audition rooms and I was booking everything I touched. I've since had plenty more ups and downs, which is inevitable with what I do, but I know how much this means to me and that I'm capable of hanging in through the dry spells.
How do you nourish your mind and body?
OC: Yoga, meditation, prayer, good friends and good food. I try to limit the use of my phone, and I seek out nature to get grounded again. I'm not solid and consistent with my habits, but I work on listening to what my mind and body need.
How do you ensure a good night's sleep?
OC: Whatever time zone I land in, I try to be off my phone and laptop by nine and in bed between ten and eleven. I recently read Deepak Chopra's "Restful Sleep," because I've struggled with insomnia; his thoughts on society's sleep deficit shifted some major things for me.
Have you ever tried to control your dreams?
OC: Does that mean I'm wrestling my subconscious? I do have a recurring dream element where I fly; I wish I could say I fly gracefully like Superman, but I frog-swim through the air.
What is your practical application of daydreaming?
OC: Daydreaming is a form of free writing, where your mind is given space for ideas to come instead of you banging your head against the wall to solve something. As an actor, I daydream as part of my process of building a character.
Where do you see yourself in five years?
OC: I need to daydream about it! For the first time in a long time I don't know which direction to point in. My next step is to come up with a map and make a move!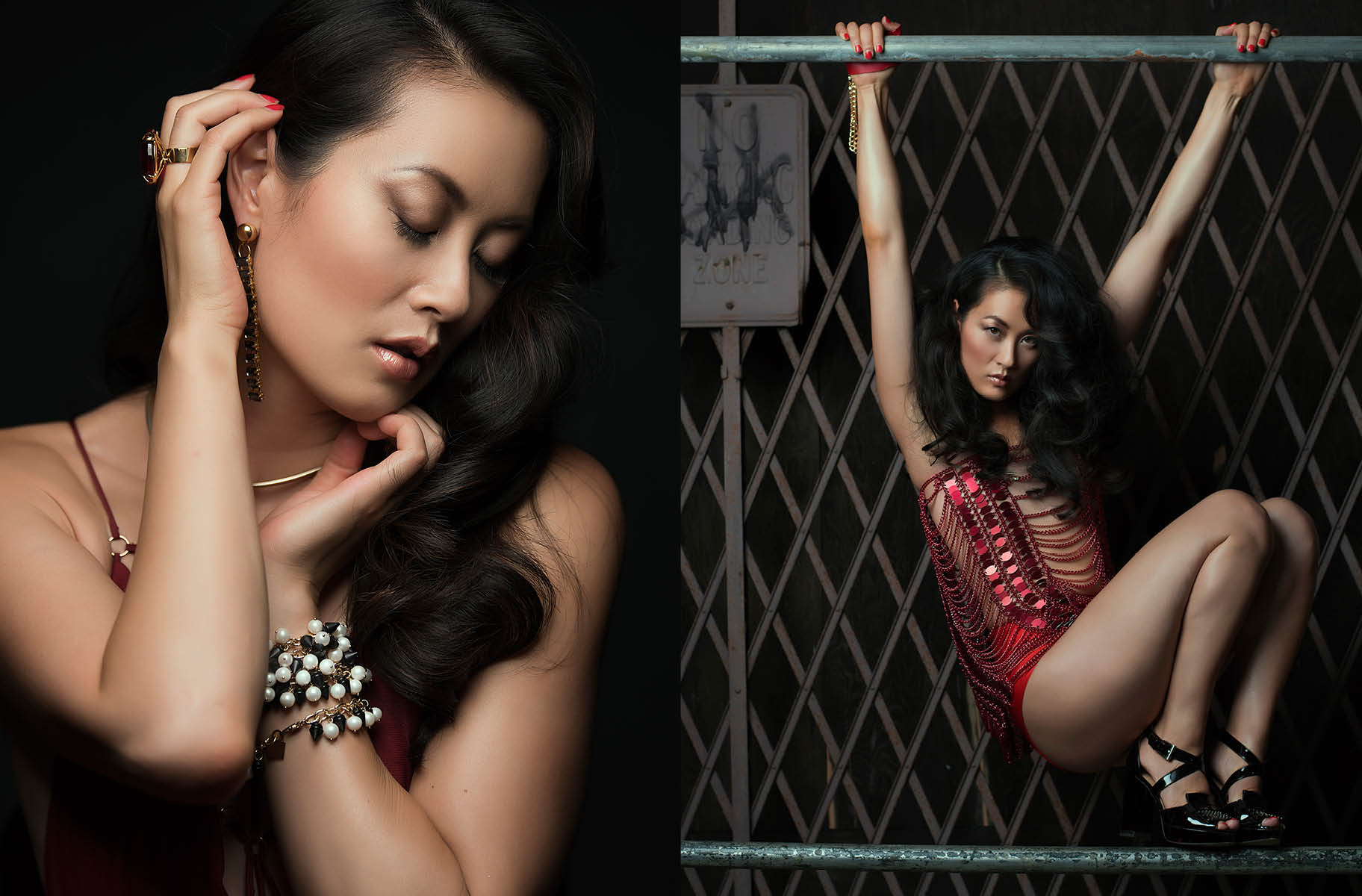 left: Dress Topshop / Earrings & Ring Laruicci / Bracelet Haus of Topper / Necklace Qiyada
right: Top & Glove Laurel DeWitt / Panties American Apparel / Shoes Michael Kors