After a lifetime of personal travel, Moshe Malamud turned his attention toward creating the ultimate experience for global power travelers with M2Jets.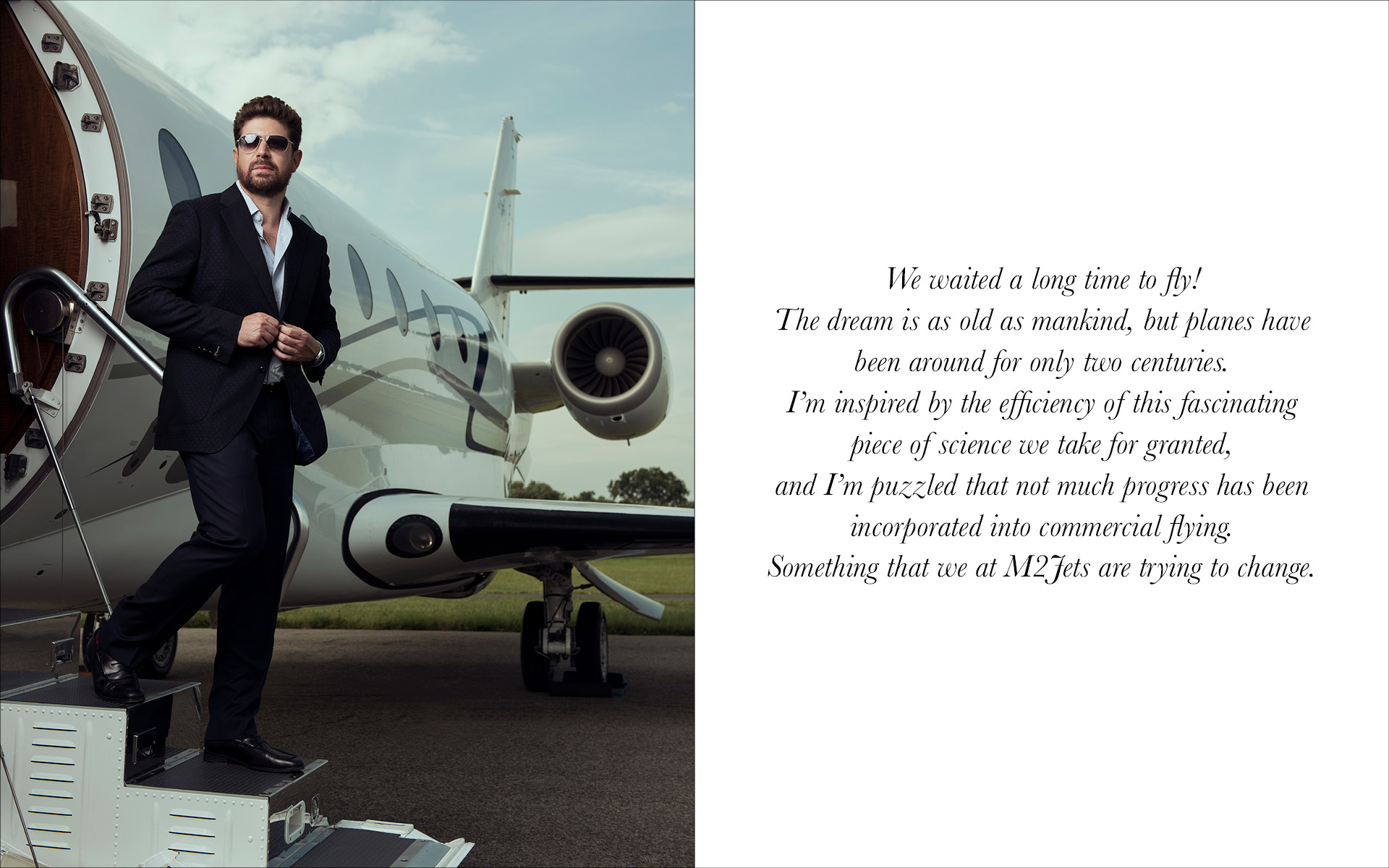 Having a full fleet of aircraft under his wing (no pun intended), Moshe Malamud seems destined to rule the skies.
Raised in a childhood steeped in diplomacy, world travel and culture, Malamud came away with a heightened awareness for a need of improved air travel. With a business background involved in global travel and many hours spent in commercial flying, Malamud had an opportunity to experience first-hand that world in-depth. In observing today's fast-paced world of international travel and the business of sophisticated travelers versed in high-speed technology and exposure to information and luxury, he had a vision for a bespoke travel solution.
Gathering a team of experts in the field, seasoned pilots, made-to-order aircraft, including the Bentley-inspired interiors, and experienced crews, fueled with passion and ideas, M2Jets was born.
The M2Jets traveler is a luxury customer whose lifestyle demands time efficiency, privacy and the personal touch. The company promises attention and safety, making every trip special, unique and seamless. Should a need arise for an in-flight route change, no problem: a few words to the pilot and you land in London instead of the Middle East. Really… M2Jets delivers in every sense of the word. It goes beyond the skies in embracing all aspects of its clients' luxury needs by arranging dining, entertainment and travel arrangements. The goal is to accommodate, even when challenged by the so-called 'impossible.' M2Jets welcomes the challenge and solves the problems.
Moshe Malamud, is in no way with his "head in the clouds" as far as what the future holds. Plans for a cooperative campaign with exclusive concierge ambassadors and Luxury World Traveler, one-of-a-kind travel experiences and private flying to a wider audience are underway.
And who is Moshe Malamud when his feet are on the ground? A historian of sorts in that he can hold forth about the 'dream' that is as old as mankind… that of flying, and improving the experience.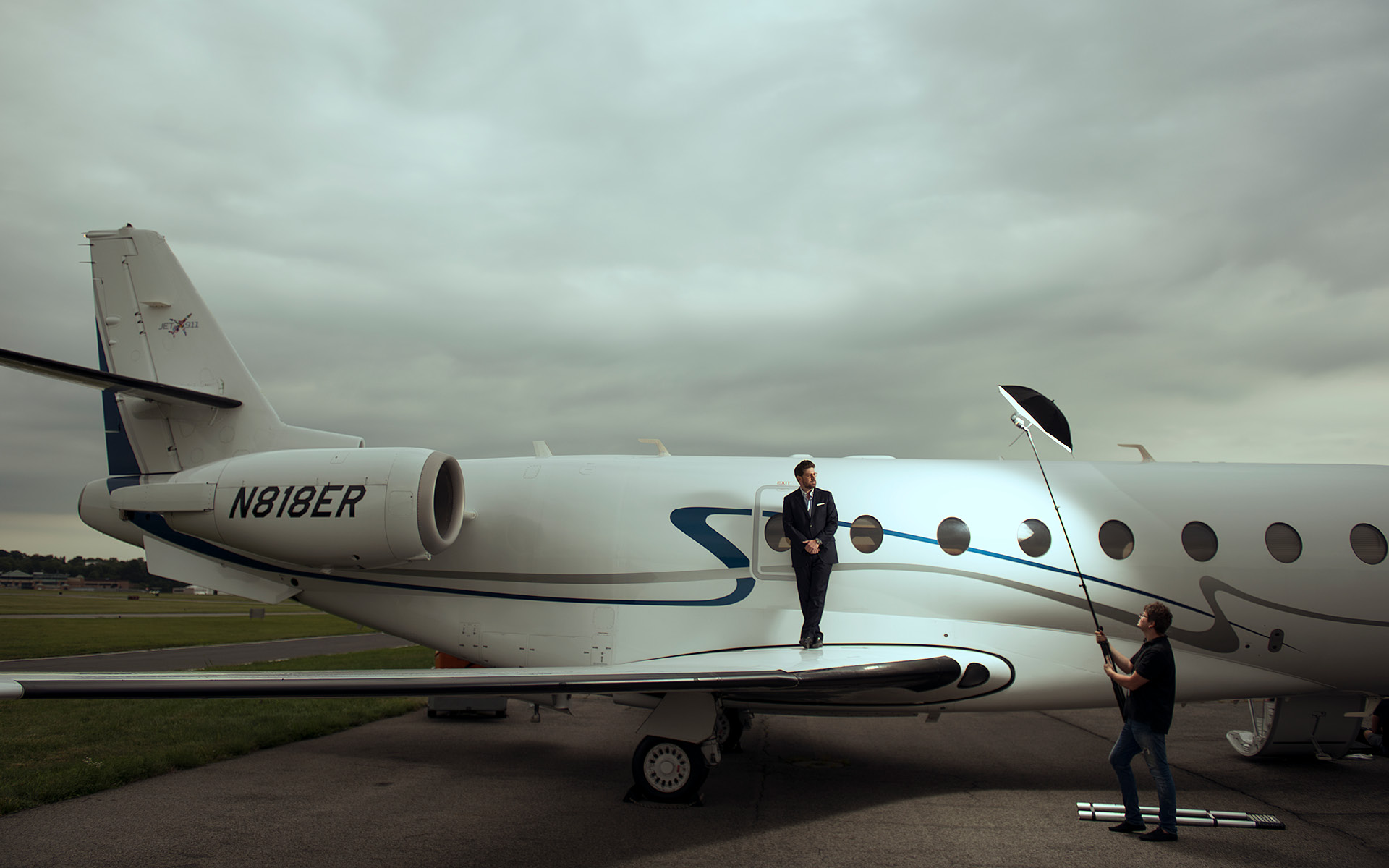 Yelena Deyneko: Did your upbringing affect your career ambitions?
Moshe Malamud: In the 1950's, when Britain granted independence to African countries, my father was crowned the King of Post, handling posts, telecommunications, negotiations and other affairs on behalf of these newly independent nations. His role required traveling to the most remote destinations in the world, and we frequently traveled with him. I saw him build lasting relationships with presidents, prime ministers and heads of states, because he understood the value of confidentiality. I learned essential work ethics and was exposed to various distinctive global cultures. At the time, the world was bigger and travel wasn't easy; I realized much could be done to improve the experience – and the value of luxury.
YD: The jet company you founded in 2007 wasn't your first business.
MM: There was a period that I worked on a project across the Caribbean Islands, wasting lots of time flying commercially, so it made sense to fly privately, which wasn't as common as today. Aircrafts were owned only by corporations or the extremely wealthy, so out of necessity I bought my own – quite an investment, but I found a jet owner who wasn't flying as much, so we made a deal where I assumed ownership and operational responsibility of the aircraft. Through that, I learned the business. We now offer pay-as-you-go flexibility, or you buy a certain amount of hours. We fly other people when the plane isn't being used, and the owner gets an additional revenue stream.
YD: What shaped your business model?
MM: My flying experience with brokers had become impersonal. People spending substantial money to fly privately need the highest level of service and to feel appreciated. We're proud of our fleet of made-to-order aircraft, including the first Bentley-inspired interiors. Our team members are experienced fliers – catering to business people, professional athletes, artists and celebrities, who expect reliability, convenience and elegance, which our customer is accustomed to. There's absolutely no room for error.
The United States now represents sixty-five percent of the global private jet market, but lags behind other countries that offer an uber VIP experience. Our initial focus was a fleet of eight-to-ten-passenger midsize business jets; as we grow, we're focusing on heavier aircraft to accommodate larger groups, and have forged relationships with other management companies to access over 3,500 business jets.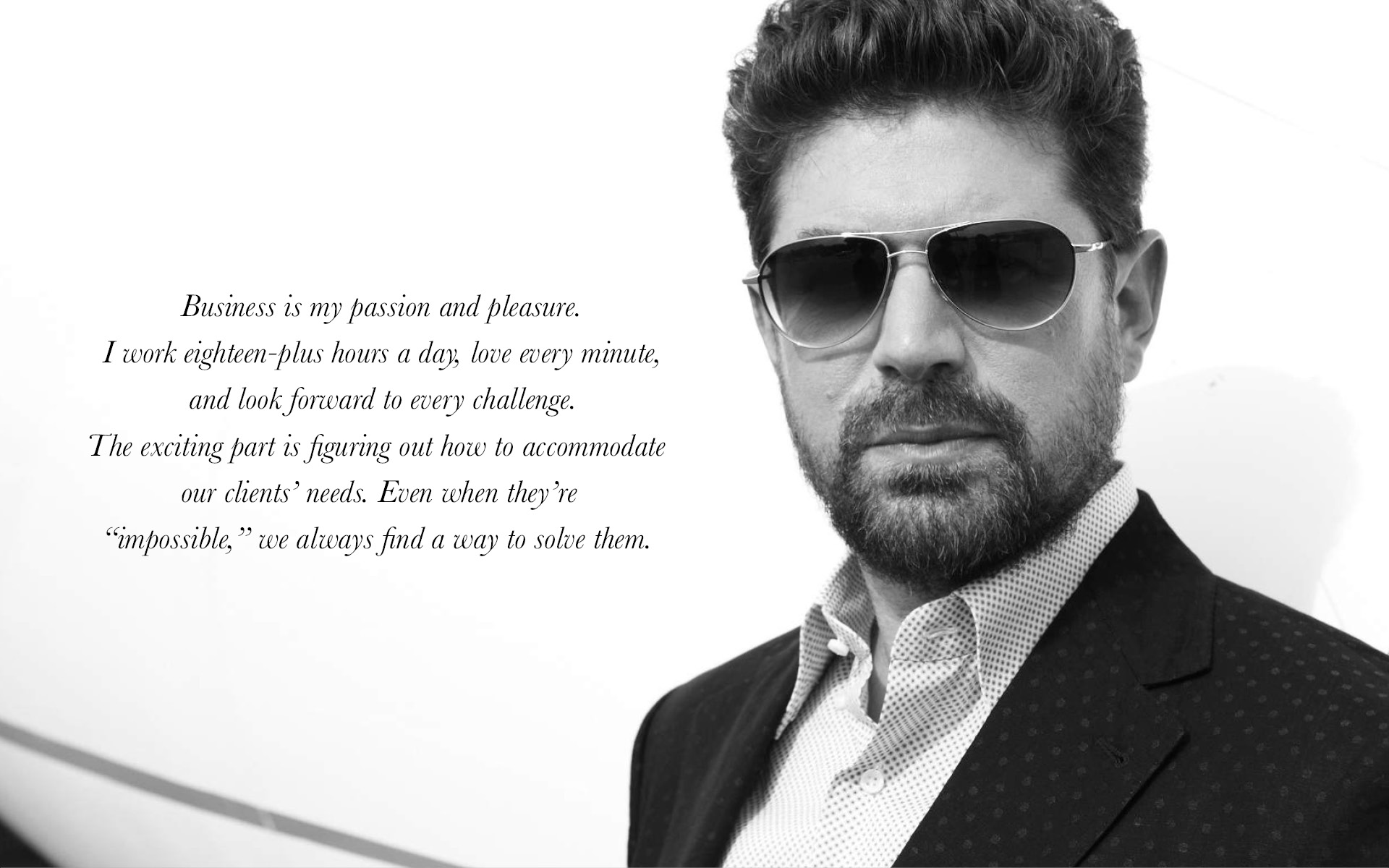 YD: What characterizes the essence of your business?
MM: Excellence. People fly privately for lifestyle, time efficiency and privacy. Every trip is special, every client is unique, and every experience is custom. A client I flew from New York to the Middle East suddenly needed to go to London – he walked up to inform the pilot and we rerouted. You have full control of your time and can enjoy flying, conducting your business on the plane, uninterrupted.
YD: What are your next steps?
MM: A cooperative campaign with the most exclusive concierge specialist, Luxury World Traveler. We will deliver one-of-a-kind travel experiences that will revolutionize private flying to a wider audience. Our clients have become accustomed to us being their one phone call for travel and luxury needs, such as dining, transportation, entertainment and event planning. When you establish a brand based on attention to every detail, they depend on you to organize all ancillary aspects of their lives.
YD: When you take a breath from business, how do you recharge?
MM: Business is pleasure. I work eighteen-plus hours a day, love every minute, and look forward to every challenge. We have full concierge service from the moment clients leave home to the moment they come back. The exciting part is figuring out how to accommodate their needs even when they're "impossible" – when reservations are not available or tickets are sold out. We find a way to solve it.
YD: Aside from work, what are you passionate about?
MM: My dad collected stamps and coins from all over the world, and I continue this tradition. I love the concept of holding something made centuries ago. I'm most passionate about U.S. Civil War coins, because of the war there was an extremely limited mintage, and of certain denominations only a handful exist today, so they have financial as well as historical value.
In 2007, the U.S. Mint began honoring our Presidents on new One Dollar coins. Changing the design for the first time since 1933, Congress ordered the words In God We Trust to be stamped on the edges vs. the face of the coins, but an unknown number of "Godless dollars" were mistakenly produced by the Mint creating a true modern day collectible error. Less than a week post release, a coin-collector discovered the error and demand for this rarity surged. I was running The Franklin Mint at the time and identified a unique opportunity and procured as many as I could possibly source in mint perfect condition; they ultimately sold for over a thousand dollars a piece.
YD: What are some of your favorite historic moments?
MM: We waited a long time to fly! The dream is as old as mankind, but planes have beenaround for only two centuries. I'm inspired by the efficiency, by pilots being able to turn on the engine and take off in this incredible, fascinating piece of science we take for granted. Commercial flying was introduced in 1914 in Russia with two people on the plane. The evolution bloomed at first, but I'm puzzled that not much has advanced since; military progress hasn't been incorporated into commercial flying. Time spent at the airport is a rather dreadful experience, one that we at M2Jets are trying to change.